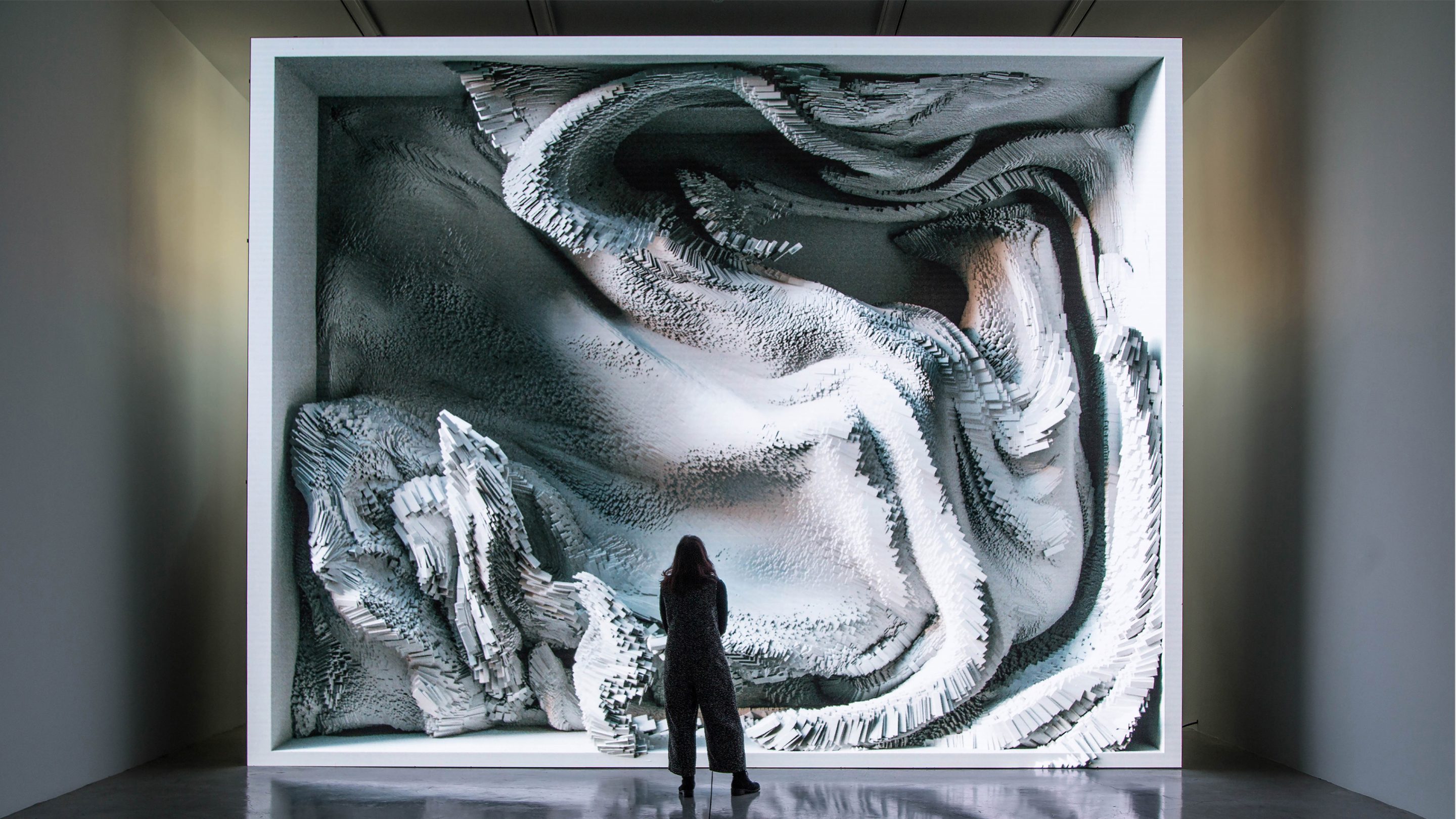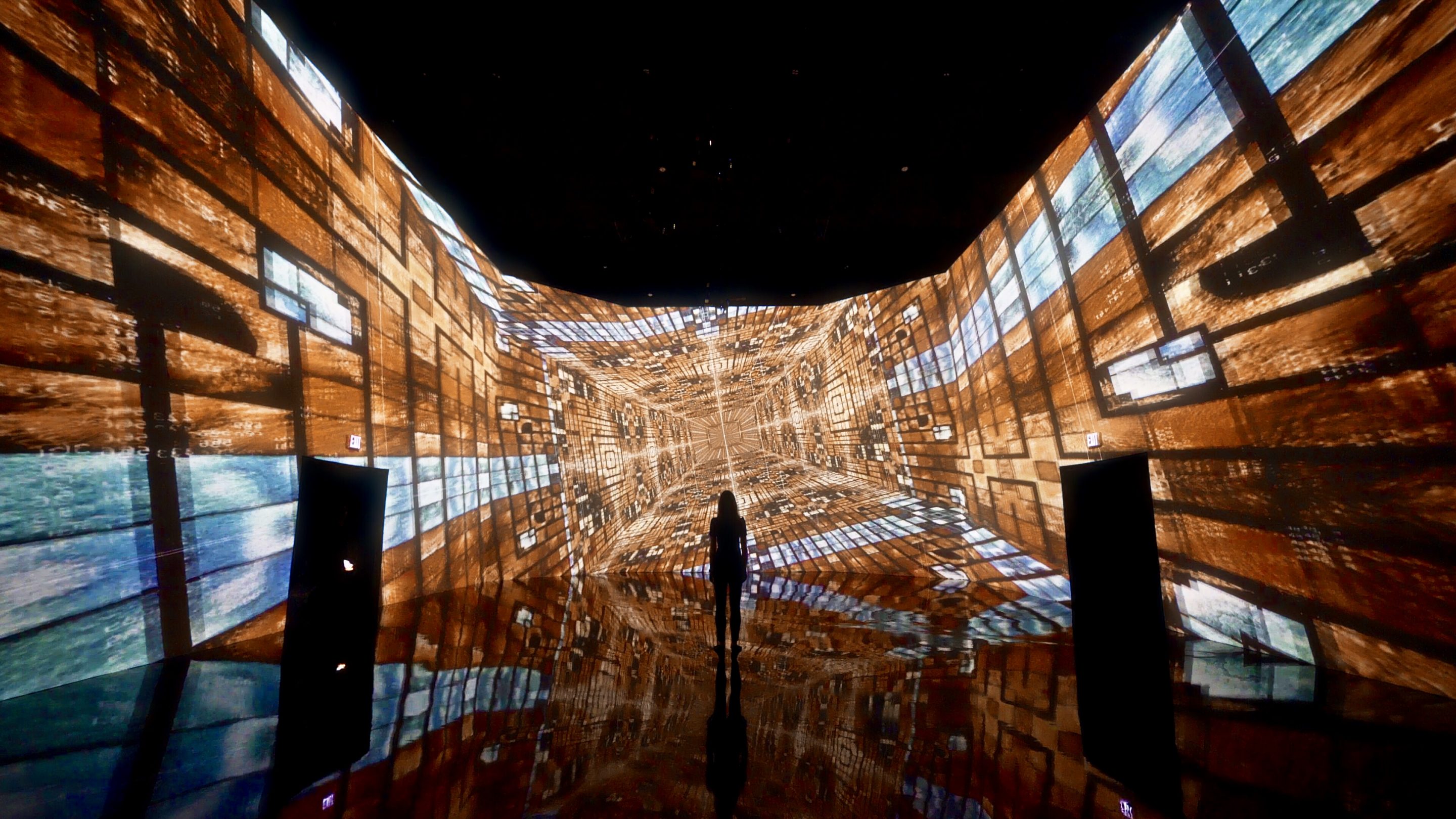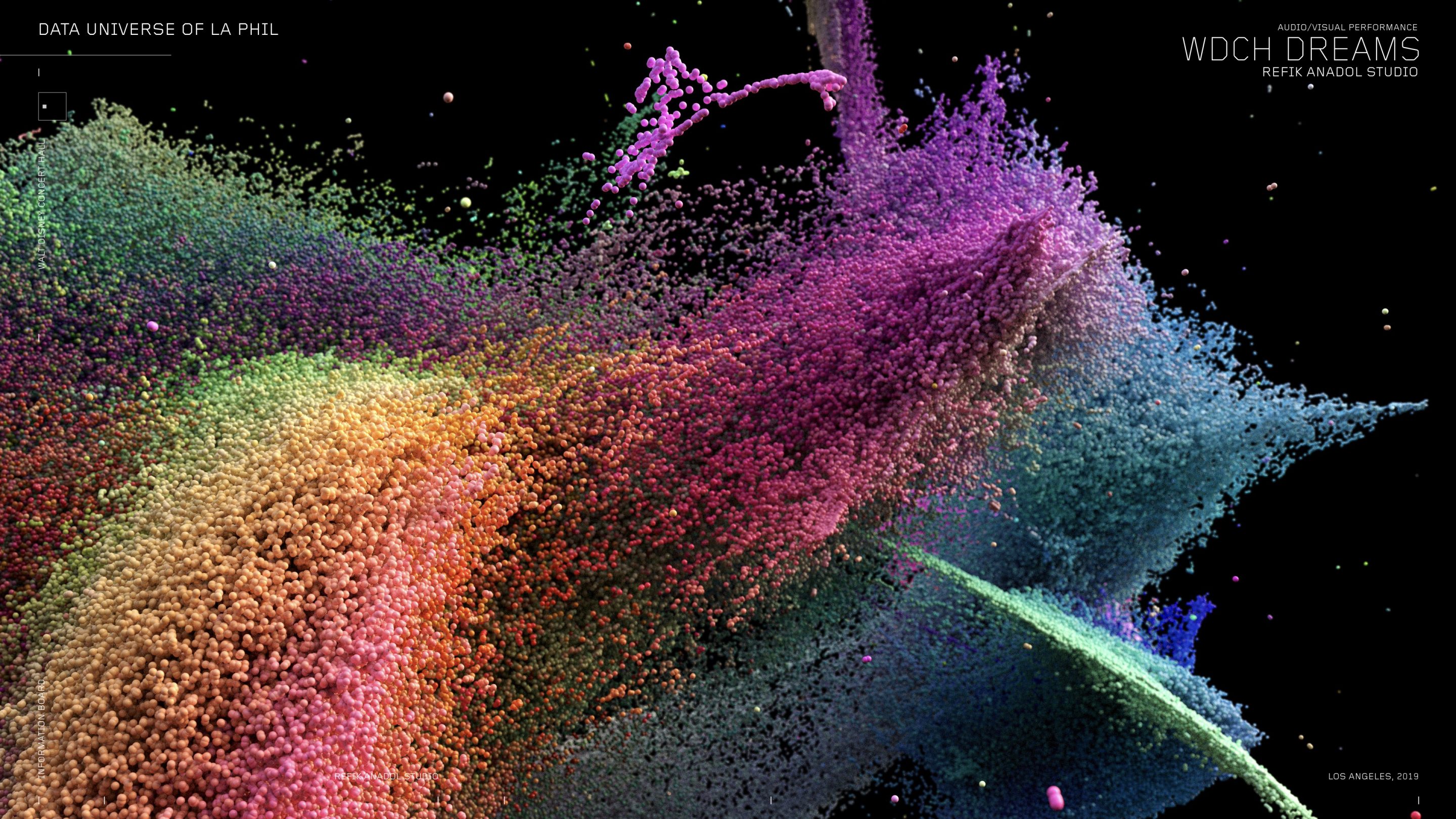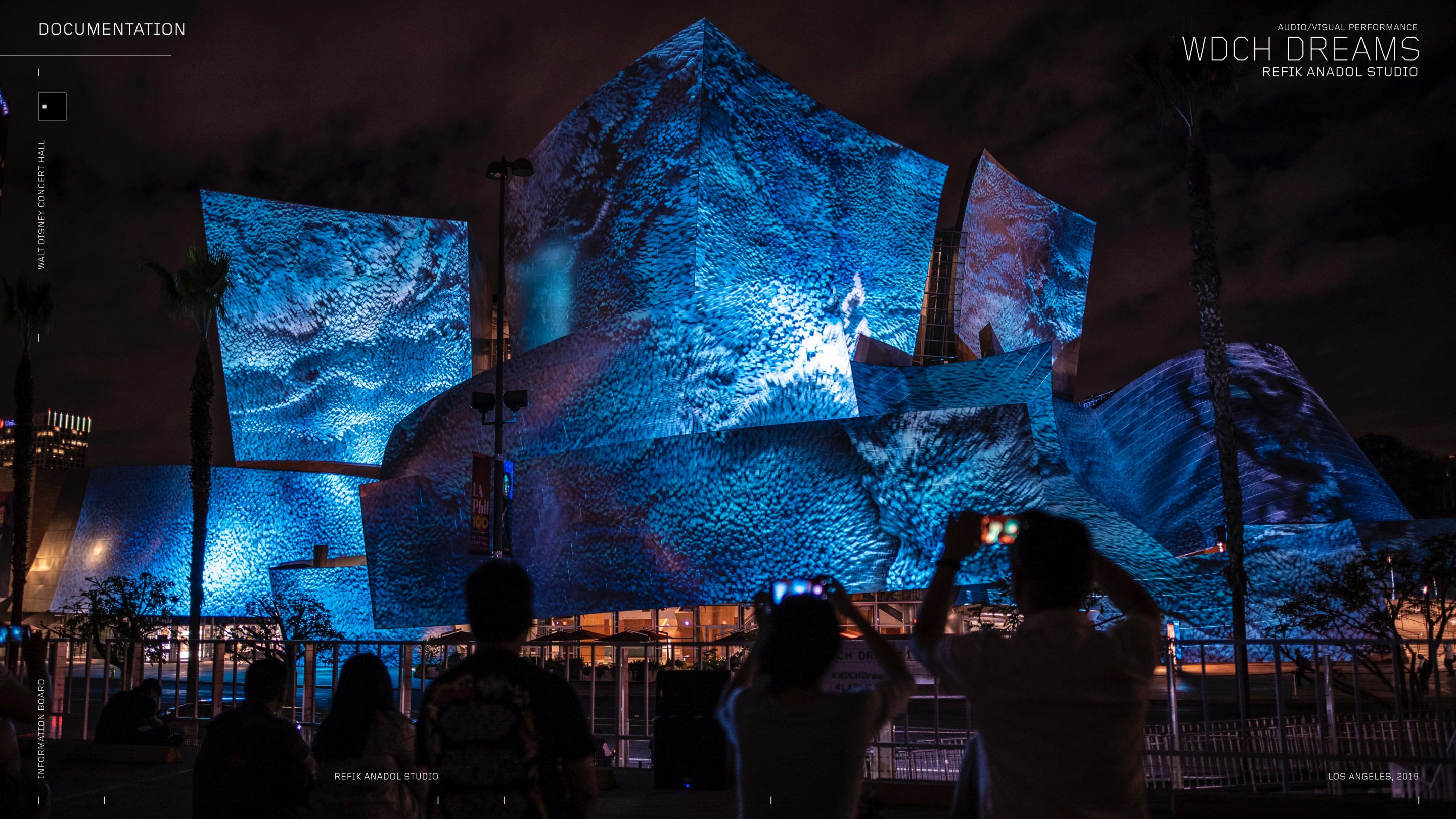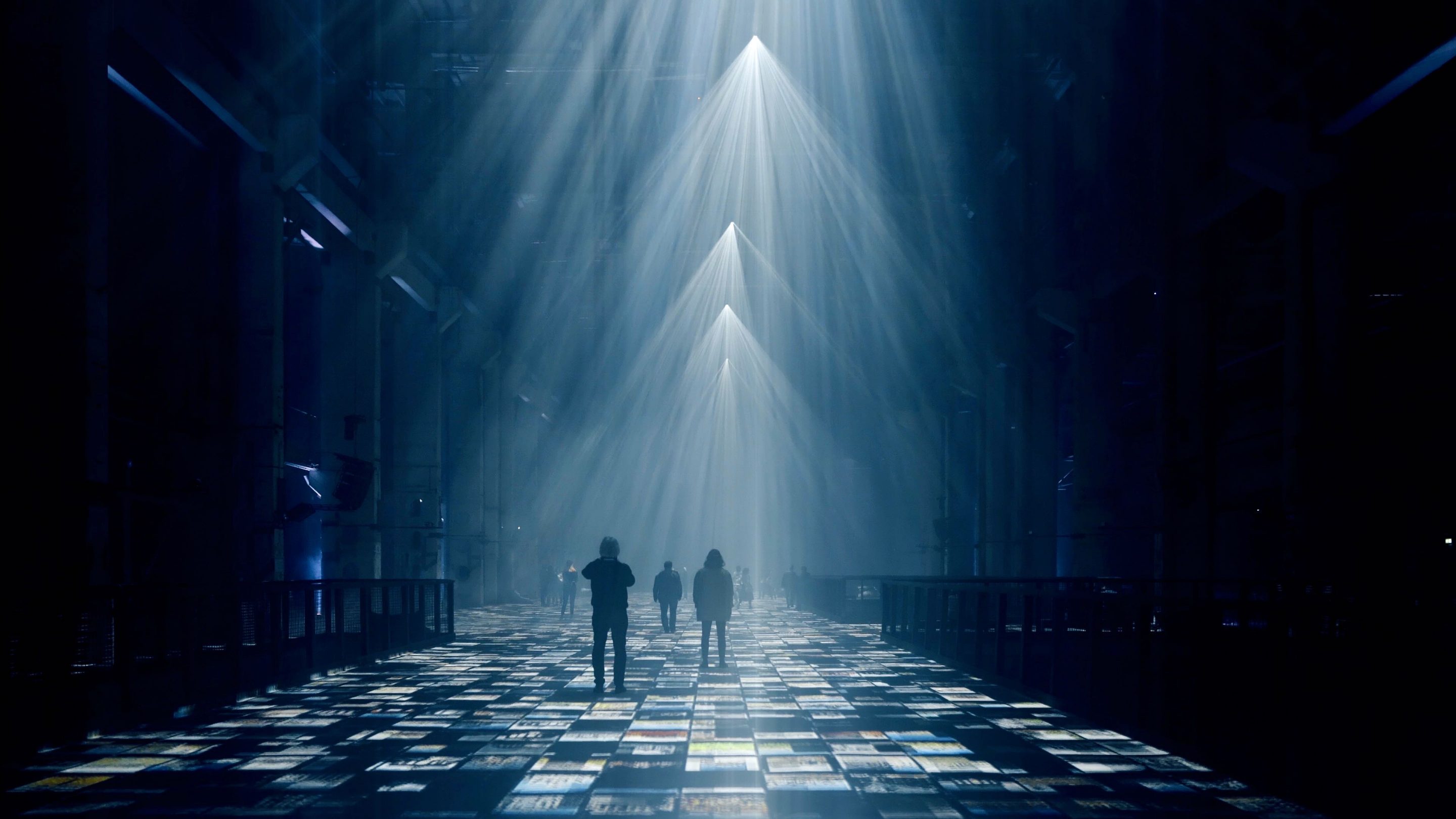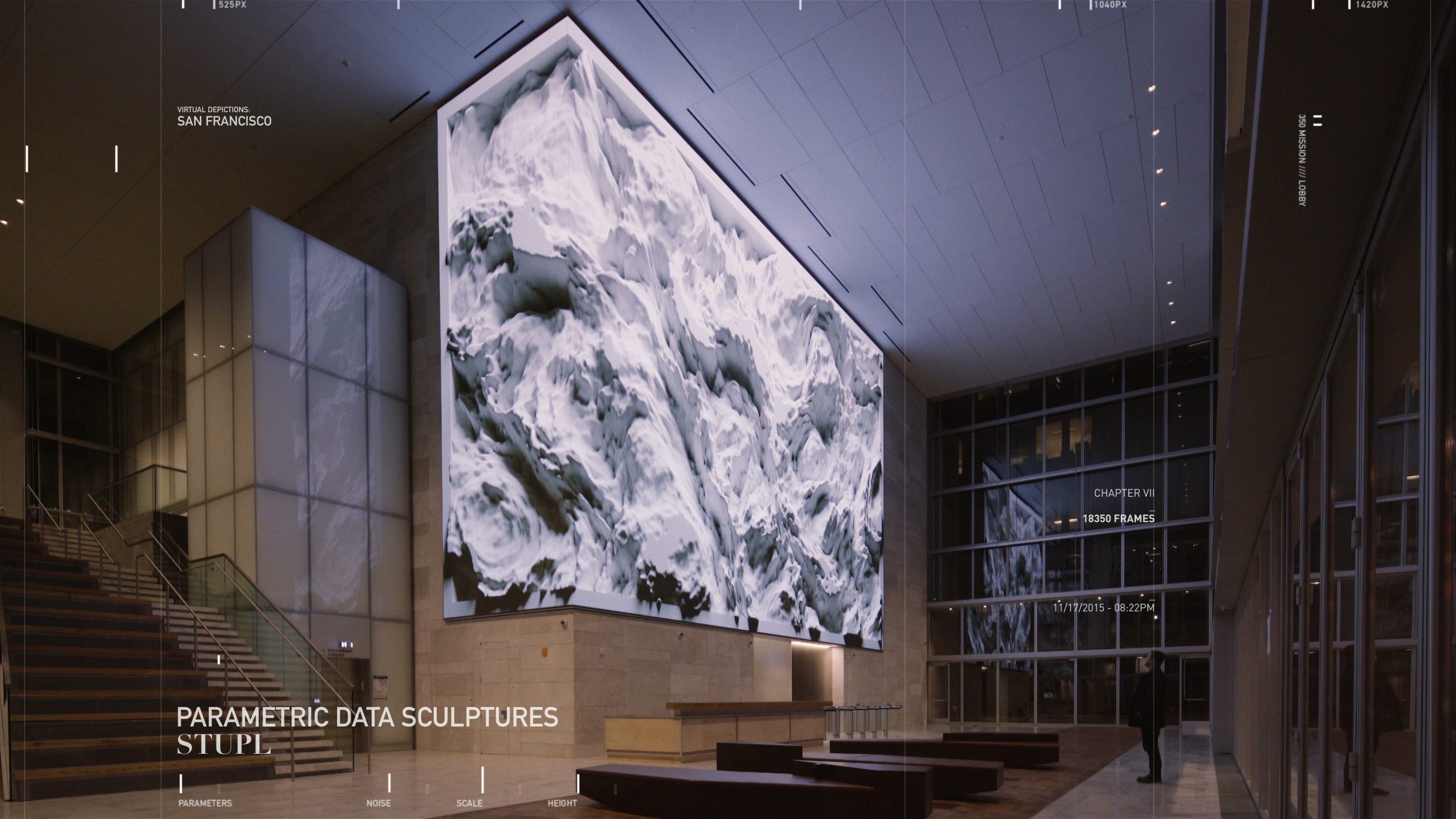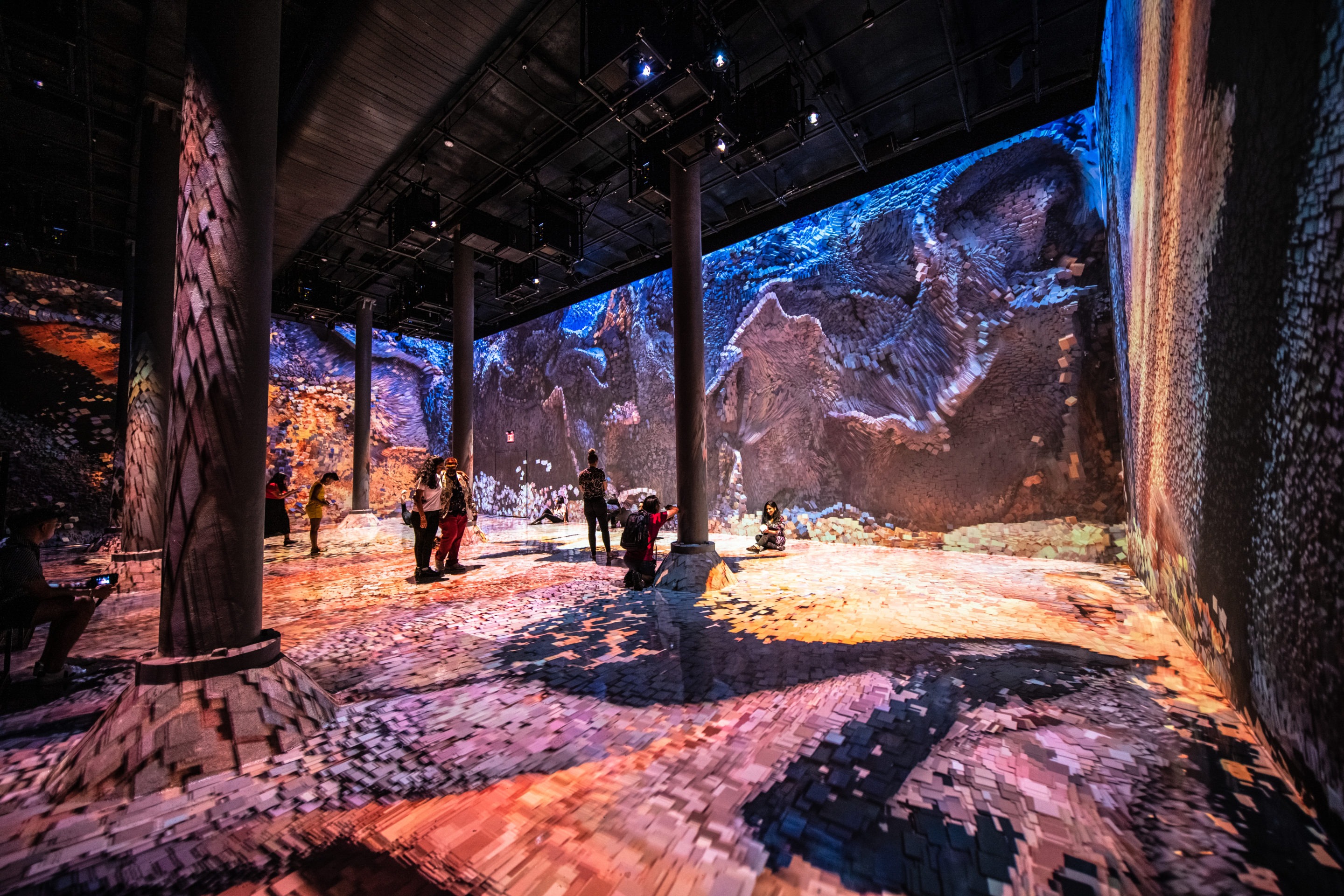 Los Angeles-based Refik Anadol Studio creates public art that explores the potential for intersections of media, science, and technology to radically communicate data while also inviting audiences to visualize alternate architectures of space and perception. Through site-specific immersive installations, data paintings, and audio/visual performances, Refik Anadol Studio takes the invisible data that surrounds us as primary material and the computerized mind as collaborator, to create unique poetic experiences. 
The studio focuses on space, especially as it relates to the domains of artificial intelligence, neuroscience, and architecture. It seeks to re-consider dialogic relationships between imagination and physicality, self and environment, technology and history. By merging these fields within the context of public art, the studio draws attention to the construction and recollection of our histories, memories, and dreams and in so doing finds the resources to encapsulate our interconnectedness.
SELECTED CLIENTS & COLLABORATORS
C-
SELECTED CLIENTS & COLLABORATORS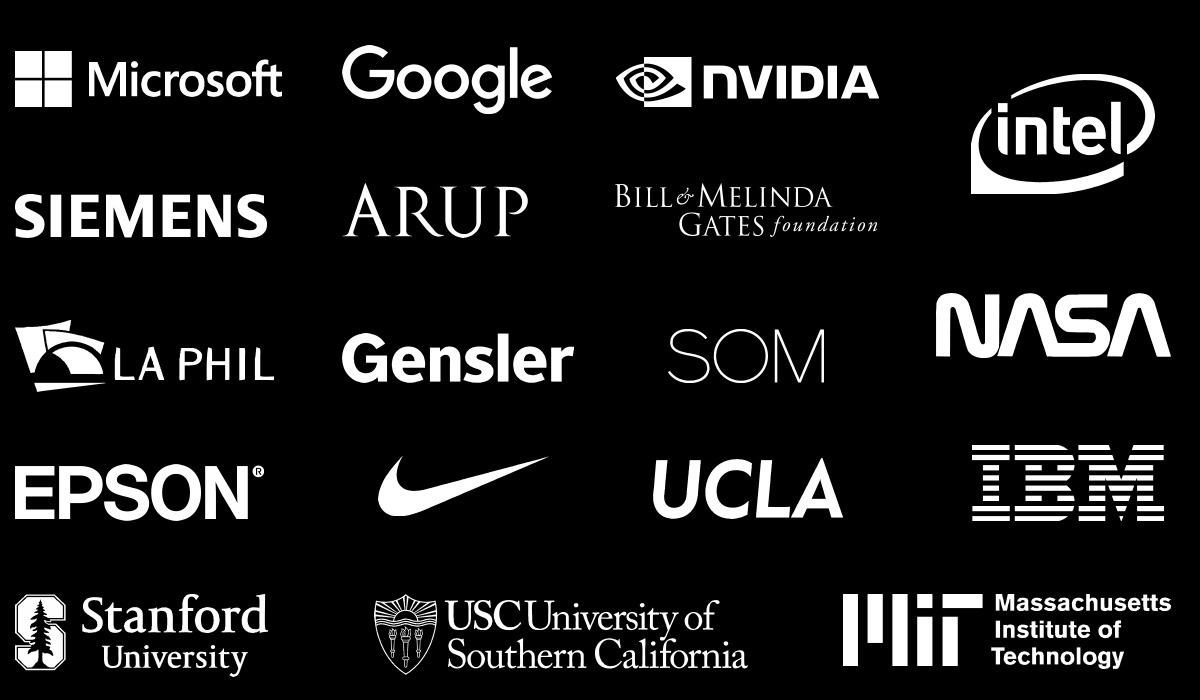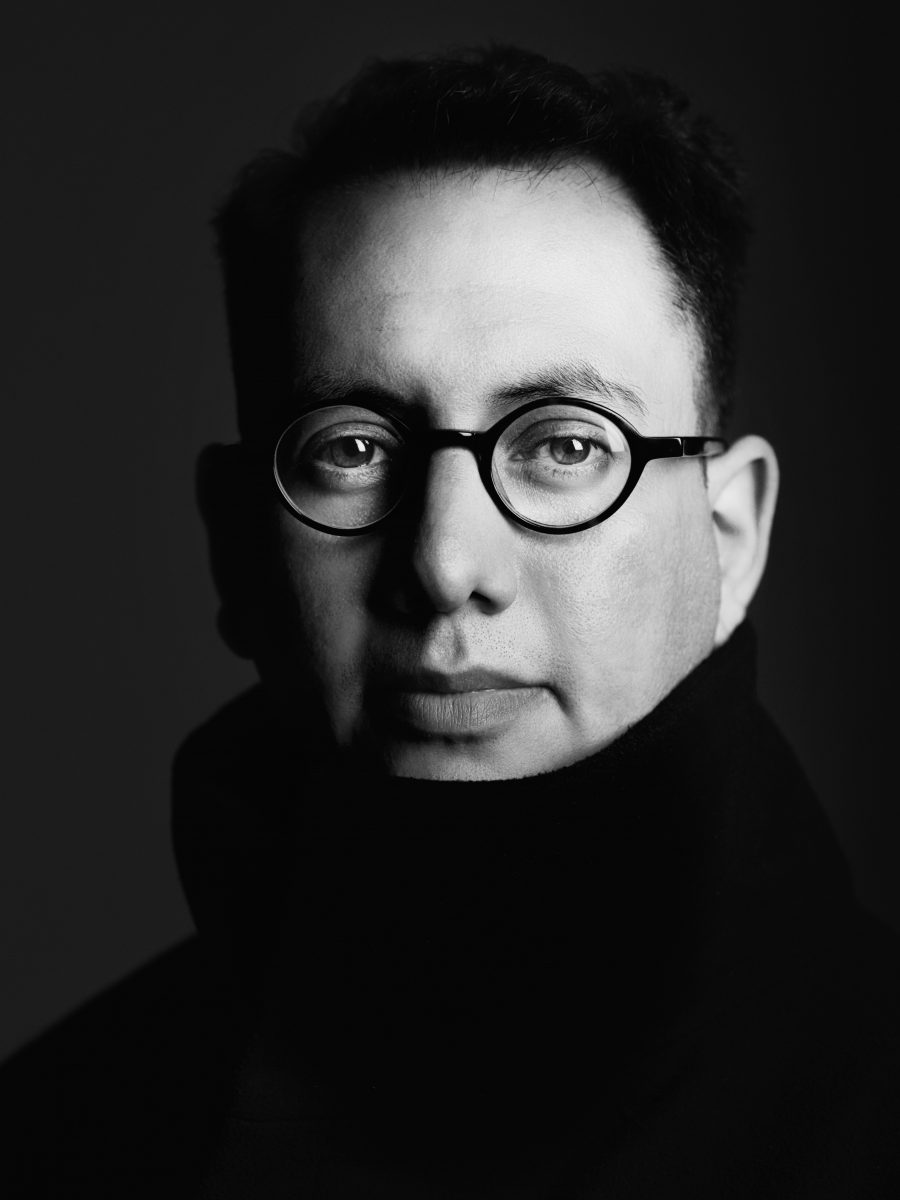 Refik Anadol (b. 1985, Istanbul, Turkey) is a media artist and director. He currently resides in Los Angeles, California, where he owns and operates Refik Anadol Studio. Anadol is also a lecturer and researcher for UCLA's Department of Design Media Arts from which he obtained his Master of Fine Arts.
 Anadol's body of work addresses the challenges, and the possibilities, that ubiquitous computing has imposed on human kind, and what it means to be a human in the age of machine intelligence. He explores how the perception and experience of time and space are radically changing now that machines dominate our everyday lives. As a spatial thinker, Anadol is intrigued by the ways in which the digital age and machine intelligence allow for a new aesthetic technique to create enriched immersive environments that offer a dynamic perception of space.
By proposing the possibility of "post-digital architecture" and re-defining the functionalities of both interior and exterior architectural elements, Anadol invites his audience to imagine alternative architecture realities. The artist tackles this by not simply integrating media into built forms, but by translating the logic of a new media technology into spatial design. 
 Residing at the crossroads of art, science, and technology, Anadol's site-specific parametric data sculptures, live audio/visual performances, and immersive installations take many virtual and physical forms. Entire buildings come to life, floors, walls, and ceilings disappear into infinity, breathtaking aesthetics take shape from large swaths of data, and what was once invisible to the human eye becomes visible, offering the audience a new perspective on, and narrative of their worlds.
The primary thread that runs throughout Anadol's groundbreaking visualizations of the unseen world is data: for Machine Hallucination, Anadol harnessed 300 million publicly available images of New York City; for WDCH Dreams, he accessed 100 years of the Los Angeles Philharmonic's digital archives; for Oakland's Sense of Place, real-time environmental data informs the work; and for Charlotte Airport's Interconnected, he utilizes real-time airport statistics. 
Refik Anadol Studio employs a unique team of prominent computer scientists, software developers, architects, engineers, and designers to realize Anadol's vision.  A pioneer in his field, and the first to use artificial intelligence in a public artwork, Anadol has partnered with teams at Microsoft, Google (Artist and Machine Intelligence), Nvidia, JPL/NASA, Intel, IBM, Siemens and Epson, to apply the latest, cutting-edge science and technologies to his work.
Refik Anadol is the recipient of a number of awards and prizes including the Lorenzo il Magnifico Lifetime Achievement Award for New Media Art, Microsoft Research's Best Vision Award, German Design Award, UCLA Art+Architecture Moss Award, University of California Institute for Research in the Arts Award, SEGD Global Design Awards, and Google's Artists and Machine Intelligence Artist Residency Award. 
Anadol's site-specific audio/visual performances have been featured at iconic landmarks, museums and festivals worldwide, such as Walt Disney Concert Hall, Hammer Museum, International Digital Arts Biennial Montreal, Ars Electronica Festival , l'Usine | Genève, Arc De Triomf, Zollverein | SANAA's School of Design Building, santralistanbul Contemporary Art Center, Outdoor Vision Festival, Istanbul Design Biennial, Sydney City Art, and Lichtrouten, among many others.
Partner / Executive Producer
Lead Architectural Designer
"Latent Being", Kraftwerk, Berlin, Germany
2019
"Machine Memoirs", Artechouse, Washington, DC
2019
"Latent Space", Artechouse, New York, NY
2019
"Dataland", The Linq at Ceasars, Las Vegas NV
2019
"Latent History", Fotografiska, Stockholm, Sweden
2019
"Wind of Dubai", Dubai, UAE
2019
"Sense of Space", Michigan State, East Lansing, MI
2019
"Machine Hallucination: Data Paintings", Bitforms LA, Los Angeles, CA
2019
"Air Synapse", Nike, Istanbul, Turkey
2019
"Archive Dreaming", Istanbul, Turkey
2018
"Infinity Room / New Edition", Athens, Greece
2018
"Heterotopia", Istanbul, Turkey
2018
"Infinity Room / New Edition", SXSW, Austin, TX
2018
"Warhol X Anadol", Young Projects, Los Angeles, USA
2018
"Radical Atoms", Ars Electronica – Computer Animation Festival, Linz, Austria
2018
"Infinity Room", The Conference, Malmö, Sweden
2017
"Infinity Room", TAG Festival, Mexico City, Mexico
2017
"MultipliCITY – Victor Vasarely" Fondation Vasarely, Paris, France
2017
"Cavity" InfoComm 2016, Las Vegas, Nevada, USA
2017
"Infinity Room" Mapping Festival, Geneva, Switzerland
2017
"Infinity Room" VIA Festival, Paris, France
2017
"Infinity Room" EXIT Festival, Paris, France
2016
"Infinity Room" Day For Night, Houston, Texas, USA
2016
"Cavity" Monochrome, Akbank Sanat, Istanbul, Turkey
2016
"Liminal Room" Istanbul Light Festival, Istanbul, Turkey
2016
"SIGGRAPH ASIA 2015" Art Gallery, Kobe, Japan
2016
"Expected" Port City Talks / Istanbul-Antwerp, Europalia, Antwerp, Belgium
2016
"Wavelengths" Digital Turkey Exhibition, Europalia, Antwerp, Belgium
2016
"Infinity Room" Artnivo, Istanbul Biennial, Istanbul, Turkey
2016
SIGGRAPH 2015 : Electronic Theatre, Los Angeles, USA
2016
SELECTED A/V PERFORMANCES
"Seoul Haemong", Dongdaemun Design Plaza, Seoul, Korea
2019
"Cavity" InfoComm 2016, Las Vegas, Nevada, USA
2018
"Infinity Room" Day For Night, Houston, Texas, USA
2018
"Liminal Eoom" Istanbul Light Festival, Istanbul, Turkey
2018
"Erik Satie's Vexations" UCLA Ostin Rehearsal Room, Los Angeles, USA
2018
"Infinity Room" Artnivo, Istanbul, Turkey
2018
"Infinity Room" Artnivo, Istanbul, Turkey
2017
"Visions of America: Amériques" LA Phil, Walt Disney Concert Hall, Los Angeles, USA
2017
"Tree of Life", Hammer Museum, Los Angeles, USA
2017
"Algo-Rhythms", Sonos-Studio, Los Angeles, USA
2017
"The Aether Project", IDEAS, Los Angeles, USA
2017
"Semaphore", LichtRouten, Lüdenscheid, Germany
2017
Studio Manager
Refik Anadol Studio seeks a dynamic and experienced Studio Manager who will be responsible for the day-to-day operation of projects as well as the studio itself. The Studio Manager will work closely with a diverse group of artists, technologists, curators, data scientists, and practitioners of multimedia art, coordinate and support the studio's workflow, and ensure that critical deadlines are met.
Primary Responsibilities & Duties
Manage all administrative processes and procedures of the Studio, including, but not limited to, schedules, applications, budgets, and expense tracking;

Coordinate on-site and online meetings;

Collaborate and coordinate with curatorial, editorial, research, and other professional staff to conceive and implement projects in timely and effective ways;

Develop project-based budgets as well as yearly financial plans and coordinate funding needs;

Proactively gather the necessary information to plan and implement each project and ensure that all essential information is present before allowing commencement of work;

Provide regular status updates to the team about the progress of the projects and changes in schedule;

May perform other duties in the studio as determined by the Director.
Qualifications
BA degree in a related field, required; MA degree, preferred;

8-10 years of experience in studio management in arts, performance, media, or entertainment;

Familiarity with Refik Anadol Studio's works or media arts in general;

Excellent written and oral communication skills;

Excellent interpersonal and organizational skills, detail oriented; and ability to prioritize, delegate, and keep track of wide variety of ongoing projects; 

Ability to work independently and part of a team;

Ability to multitask and handle high-pressure situations.
Refik Anadol Studio offers internship opportunities for students interested in multimedia arts, artificial intelligence, machine learning, and writing about contemporary art. We seek Editorial and Research Interns who are enrolled in degree-granting programs in Los Angeles. These are paid summer and/or semester internships and require a commitment of 6-8 hours per week. We are happy to help arrange academic credit with your school and provide whatever document is required.